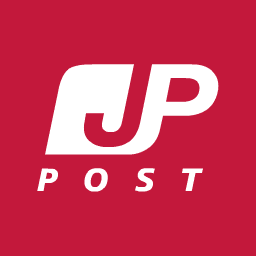 Japan Post
Japan Post is a postal service provider, logistics, and courier company located in Tokyo, Japan. It is part of the Japan Post Holdings group and deals with the shipment and delivery of parcels within and outside Japan. The company was formed on 1 October 2007. Japan Post has since grown into a major player in the country's postal and logistics industry, offering a wide range of services, including mail and parcel delivery, financial services, and e-commerce solutions. The company operates a network of post offices and delivery points throughout Japan, serving millions of customers every year.
Some interesting facts about Japan Post:
Japan Post has a long history of innovation, including the introduction of airmail services in the early 20th century and the development of Japan's first automated sorting system in the 1960s.

The company is renowned for its fast and efficient postal services, with a reputation for delivering mail and packages quickly and reliably.

Japan Post offers a wide range of international shipping services, making it easy for businesses and individuals to send packages and letters to countries around the world.

Japan Post also has a strong presence in the country's financial services industry, offering a range of financial products and services through its extensive network of post offices.

In recent years, Japan Post has expanded its services to include e-commerce logistics solutions, making it a major player in the country's rapidly growing online retail market.

The company is committed to providing sustainable and environmentally friendly services, and it has implemented a number of initiatives aimed at reducing its carbon footprint and promoting sustainable practices.
Japan Post provides a safe and reliable network for package shipment and delivery utilizing all of its resources to cover every corner of the country. By creating this highly efficient network of post offices, Japan Post is able to provide world-class package shipment and delivery services to its customers.
TrackTrace.Delivery provides full support for parcels whose shipping is handled by Japan Post. The courier service assigns all parcels a unique tracking number. All you need to do is to enter this unique tracking number provided and TrackTrace.Delivery's algorithm will find your parcel. It's that easy to use.
Japan Post International Mail Processing Centre (IMPC) codes
JPFUKA

SHIN FUKUOKA

JPFUKB

SHIN FUKUOKA D

JPFUKC

SHIN FUKUOKA M

JPFUKH

SHIN FUKUOKA BAG

JPFUKI

SHIN FUKUOKA CONTAINER 1

JPFUKJ

SHIN FUKUOKA CONTAINER 2

JPFUKK

SHIN FUKUOKA V BAG 1

JPFUKL

SHIN FUKUOKA V BAG 2

JPFUKM

SHIN FUKUOKA V CONTAINER 1

JPFUKN

SHIN FUKUOKA V CONTAINER 2

JPFUKO

SHIN FUKUOKA IBRS

JPKIXA

OSAKA INT

JPKIXB

OSAKA INT D

JPKIXC

OSAKA INT M

JPKIXH

OSAKA INT BAG

JPKIXI

OSAKA INT CONTAINER 1

JPKIXJ

OSAKA INT CONTAINER 2

JPKIXK

OSAKA INT V BAG 1

JPKIXL

OSAKA INT V BAG 2

JPKIXM

OSAKA INT V CONTAINER 1

JPKIXN

OSAKA INT V CONTAINER 2

JPKIXO

OSAKA INT IBRS

JPKWSA

KAWASAKI HIGASHI

JPKWSB

KAWASAKI HIGASHI BULK

JPKWSE

KAWASAKIHIGASHI TRANSIT

JPKWSG

KAWASAKIHIGASHI G

JPKWSH

KAWASAKI HIGASHI BAG

JPKWSI

KAWASAKI HIGASHI CONTAINER 1

JPKWSJ

KAWASAKI HIGASHI CONTAINER 2

JPKWSK

KAWASAKI HIGASHI V BAG 1

JPKWSL

KAWASAKI HIGASHI V BAG 2

JPKWSM

KAWASAKI HIGASHI V CONTAINER 1

JPKWSN

KAWASAKI HIGASHI V CONTAINER 2

JPKWSP

KAWASAKIHIGASHI P

JPKWSW

KAWASAKIHIGASHI PG

JPKWSX

KAWASAKIHIGASHI X

JPNGOA

CHUBU INT

JPNGOB

CHUBU INT D

JPNGOC

CHUBU INT M

JPNGOH

CHUBU INT BAG

JPNGOI

CHUBU INT CONTAINER 1

JPNGOJ

CHUBU INT CONTAINER 2

JPNGOK

CHUBU INT V BAG 1

JPNGOL

CHUBU INT V BAG 2

JPNGOM

CHUBU INT V CONTAINER 1

JPNGON

CHUBU INT V CONTAINER 2

JPNGOO

CHUBU INT IBRS

JPNRTA

NARITA AP A

JPOKAA

NAHA CPO

JPOKAB

NAHA CPO D

JPOKAC

NAHA CPO M

JPOKAH

NAHA BAG

JPOKAI

NAHA CONTAINER 1

JPOKAJ

NAHA CONTAINER 2

JPOKAK

NAHA V BAG 1

JPOKAL

NAHA V BAG 2

JPOKAM

NAHA V CONTAINER 1

JPOKAN

NAHA V CONTAINER 2

JPOKAO

NAHA INT IBRS

JPTYOA

TOKYO INT

JPTYOB

TOKYO INT D

JPTYOC

TOKYO INT M

JPTYOH

TOKYO INT BAG

JPTYOI

TOKYO INT CONTAINER 1

JPTYOJ

TOKYO INT CONTAINER 2

JPTYOK

TOKYO INT V BAG 1

JPTYOL

TOKYO INT V BAG 2

JPTYOM

TOKYO INT V CONTAINER 1

JPTYON

TOKYO INT V CONTAINER 2

JPTYOO

TYOKO INT IBRS
Japan Post Tracking Numbers